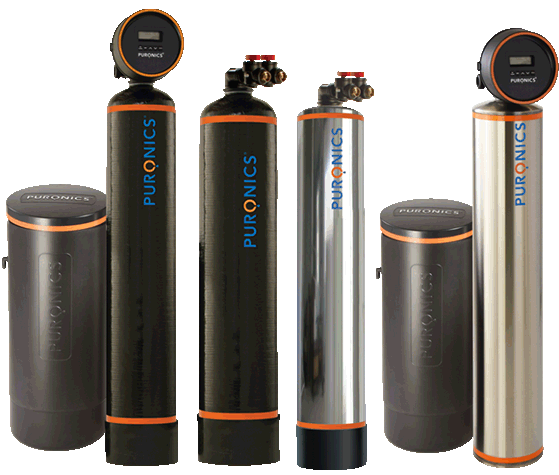 Remove impurities from your water supply with water softeners
Your Local Source for Water Softeners in Cincinnati, OH
When your water supply contains a substantial amount of calcium, magnesium and other deposits, it's called hard water. Water softening is a technique that removes these ions and particulate matter from your water supply to soften it. If you want clearer, cleaner and more refreshing water in your home, turn to Puronics® for water softeners in Cincinnati, OH.
Monitoring and treating the quality of your water is an integral part of maintaining awater supply that's safe for consumption and use. Our water softening systems are designed to target a wide range of tap water contaminants and impurities such as bacteria, chlorine, mineral deposits and more. Consider us your go-to source for water softeners that optimize your water quality and improve your quality of life. Call on us for high-performance residential products that will resolve your hard water issues.
Why You Should Consider Softening Your Water
Hard water is known to clog pipes and hot water tanks and make it more difficult for soap and detergent to dissolve in water. Also, the various minerals found in hard water are a leading cause of soap scum, meaning that your dishes will be cleaner if you wash them in softened water.
The presence of fewer minerals and particulate matter in your supply also means that fabrics cleaned in treated water will feel cleaner and smoother. With fewer impediments clogging up your plumbing lines, water-using appliances will ultimately last longer and perform better. At your request, our knowledgeable specialists will provide you with the water softener you need to gain peace of mind about the state of your water supply.
Bettering Our Customers' Health and Wellness
We proudly distribute our water softenerand filtration systems through a worldwide network of independent dealers who are committed to serving your needs. It's our obligation to mirror that commitment our dealer demonstrates by going above and beyond to provide the best customer service possible.
Let us provide you with a crystal-clear look at the condition of your water. Following your assessment, we'll recommend water softening systems that reduce impurities, unpleasant tastes, smells and volatile organic compounds (VOCs) that could negatively impact the health of your household. Take a preventative approach to your water quality issues and restore your supply to its highest quality form and enjoy a happier, healthier life.
Contact our company for water solutions for clean, refreshing water. We proudly serve property owners in Cincinnati, Ohio, and the surrounding areas.
Receive a FREE Water Quality Consultation
Please use the form below to request a FREE water quality consultation.
This form is currently undergoing maintenance. Please try again later.
All information collected is confidential and never sold to any third parties.